Network outages
Occasional network outages are inevitable, and will generally be resolved quickly. There's nothing you can do when there is a network outage. If your Internet service degrades in performance unexpectedly or stops working all together after having previously been operating normally, check for reported outages on your RSP's page.
Some people keep a backup wireless broadband solution, such as a 4G or 5G hotspot, as a backup should their area experience an outage. If possible, try to hotspot from your mobile phone if your plan allows it.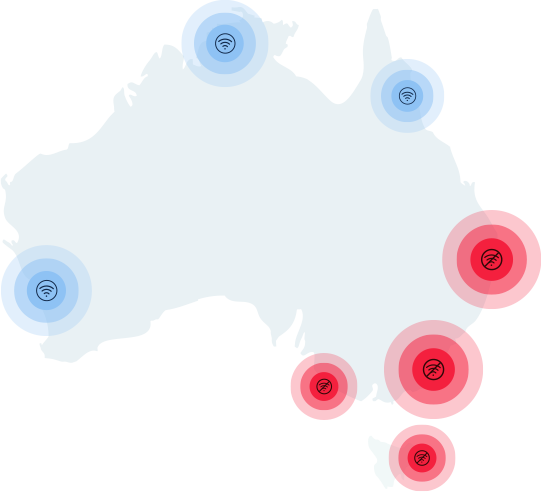 Slow speeds
One of the most common issues with  nbn™ is Internet speeds: i.e. you're paying for a set speed (for example, 50Mbps download/20Mbps upload), and when you run a speed test, your speed test results are much lower.
There are a couple of possible reasons this may be happening;
Exceeding your data allowance
If you are not on an unlimited nbn plan then you will have a monthly data limit and if you exceed your limit then your RSP may shape (reduce speed) your connection for the remainder of the month.
Network congestion
Congestion is largely a problem of days past. Recent changes to the nbn™ network and how RSPs connect mean that congestion issues aren't as they once were. However, there can be a slight drop in speed during peak times (7pm-11pm) and this would be considered normal.
Check the advertised peak speeds when selecting a plan. This should give you an indication of the speed you will get during the busiest times.
Home Setup
The set up of your home environment can contribute to slower internet speeds over WiFi. Consider where you place your modem/router, ideally positioned in a raised and central area away from brick or complex walls. If WiFi signal coverage is weak in a certain part of your premise then consider a WiFi repeater or extender. Connect fixed devices like your TV directly to the modem with an ethernet cable.